P&P SIG gathered for another Meet & Greet on September 27, 2023. Thank you to all who attended!
SIG Manager Sam Lee introduced the SIG's upcoming webinar, "How to Become a Cybersecurity Professional," planned for October 26, 2023, 7 – 8 p.m. The presenter will be Ben Woelk, CISSP, CPTC.
Sam also reminded members of the upcoming deadline (September 30, 2023) for the group's fun monthly contest: "Where in the World is Monte,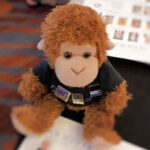 the P&P SIG Mascot?"
In each month's SIG newsletter, member Tricia Spayer shares a photo of Monte from their travels together. Tricia provided additional clues as to his location in the September photo. You can review the photo and the clues by watching the video of the Meet & Greet below.
Tricia's first clue appeared on the SIG's STC Slack channel on September 20, 2023.